Speedy Beers' Music Studio
Speedy Beers' Music Studio is equipped with an 8-track Digital Recorder and other professional recording equipment.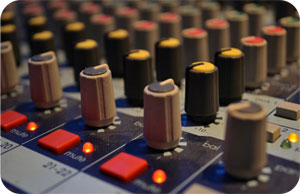 Recording can provide many advantages for students, such as making them more comfortable playing into microphones, and breaking the fear of listening to themselves play. Having yourself recorded can provide a stepping stone between the real and insurmountable gap between the practice room and the stage. Most importantly, the learning process will improve for the student by creating a more humble state of learning.
You can record for a variety of reasons, such as:
Create a demo CD.
Record a CD for an audition and make it sound professional.
Create a recorded history of your progress over time to look back upon later.
Record a CD for family and friends. Play a first part, second part, or add as many instruments as you would like.
Speedy Beers will be your personal sound engineer throughout the entire process of recording, mixing, mastering, and producing the final CD.
When recording, be sure to be ready by:
Having the music well-rehearsed.
Having the piece arranged exactly how you want it to be recorded, including any intros, choruses, endings, solos, etc.
Being prepared to be recorded in a performance atmosphere and with a performance attitude.
An hourly fee may apply. For more information or to make an appointment, call (801) 558-7094or send email to prostudio@speedybeers.com.